Special offers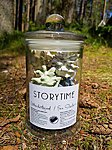 See what's on special offer at this time - see the sales buttons on this page and choose what You would like to buy.

Firestarters - different colour soy wax covered pine cones, to which we have added a wick. They are excellent to be used as fire starters in fireplace/bonfire or use the jar as a decorative piece at home.

Marzipan candles - Marzipan candles have a sweet scent and ee have only one S size left in stock.

| | | |
| --- | --- | --- |
| Sizes | Burning time | Price |
| S - 130 ml | approx. 30 hours | 6 EUR |
| M - 300 ml | approx. 80 hours | 9 EUR |
| L - 640 ml | approx. 140 hours | 18 EUR |
Made from 100% soy wax