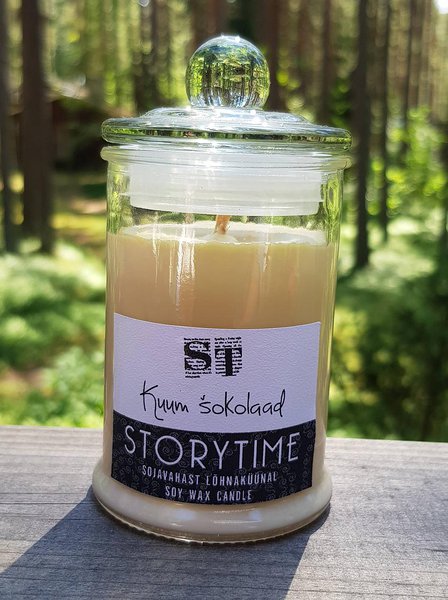 Product description is found underneath.
To make an order - select the Size and then by tapping the "Add to cart" button as many times as many of this size products you wish to order.Toote kirjelduse leiate alt.
Tellimuse tegemiseks valige küünla suurus ja seejärel vajutage nii palju "Lisa ostukorvi" nupule kui mitut küünalt soovite.
These candles have a very strong and sweet scent reminding of a hot warm cup of Hot Chocolate in front of a fireplace. We offer three sizes, all info can be found in the table below. Prices already include 20% VAT.

If you can't find a suitable payment method, you can do a bank transfer by asking for a bill when selecting the payment option. Once the money has reached our bank account we will ship the goods to you in no time.

Trouble with the payment or finding such information - contact us via About us page and we will guide you.


| | | | |
| --- | --- | --- | --- |
| Sizes | Glass size with lid | Burning time | Price |
| S - 130 ml | Height 10 cm, diameter 5 cm | appr. 30 hours | 7 EUR |
| M - 300 ml | Height 14 cm, diameter 8 cm | appr. 80 hours | 15 EUR |
| L - 640 ml | Height 18 cm, diameter 9 cm | appr. 140 hours | 25 EUR |

Made from 100% soy wax. Added scents and colours. We use pre-waxed cotton wick. Soy wax candles burn 30% to 50% longer than paraffin candles, and are much cleaner as well.

Advantages of soy wax candles

Soy wax is 100% natural and environmentally friendly material which is produced from renewable natural resources.
Soy wax does not produce soot, unlike paraffin candles.
Soy wax is scentless and thus added aromas will be more stronger.
Soy wax candles will burn up to 50% longer than same size paraffin candle.
Soy wax stains are easy to remove, just use warm water and soap.
What do you need to know when burning candles
Before we start to sell new kind of candles, we always test our product: burning time, suitable wick thickness etc. etc in order to produce a perfect product for you to use.
When you burn the candle for the first time, let the whole surface melt - it will make sure that next time you burn the candle, it will burn steadily until the end, and avoid any tunnelling. Use longer matches to light the candle and tilt the glass to make the lighting easier once the candle has burned approximately half way.
After the first time You have burned the candle, make sure that the wick of the candle will be about 0,5 cm long - it will make sure that Your soy wax candle will burn with good quality. If the wick is too long, cut it shorter. If the wick is too long, Your candle might produce soot when burning.
Do not burn a soy wax candle over 4 hours consecutively.
When You burn the candle, keep it safely away from children and pets! Make sure that You do not place the candle on top or too close to flammable materials.
Do not leave a burning candle without supervision!

EESTI KEELES

Väga tugeva ja magusa kuuma šokolaadi lõhnaga sojavahast küünal. Pakume kolme eri suurust küünalt, lisainfo leiate all olevast tabelist.

Keskendume oma toodete puhul kvaliteedile, testides neid põhjalikult enne müügiks tootmist. All toodud hinnad sisaldavad käibemaksu.


| | | | |
| --- | --- | --- | --- |
| Suurused | Klaasi mõõdud koos kaanega | Põlemise aeg | Hind |
| S - 130 ml | Kõrgus 10 cm, läbimõõt 5 cm | ca. 30 tundi | 7 EUR |
| M - 300 ml | Kõrgus 14 cm, läbimõõt 8 cm | ca. 80 tundi | 15 EUR |
| L - 640 ml | Kõrgus 18 cm, läbimõõt 9 cm | ca. 140 tundi | 25 EUR |

Koostis: 100% sojavaha. Lisatud lõhna- ja värvaineid. Kasutame eelvahatatud puuvillast tahti. Sojavahast küünlad põlevad 30% - 50% kauem ja puhtamalt kui parafiinküünlad.

Sojavahast küünalde eelised

Sojavaha on 100% looduslik, keskkonnasõbralik tooraine, mida toodetakse taastuvatest loodusvaradest.
Sojavaha, erinevalt parafiinist, ei eralda põledes tahma.
Sojavaha on lõhnatu, aroomid on puhtamad ja pääsevad hästi esile.
Sojaküünal põleb kuni poole kauem sama suure parafiinküünlaga võrreldes.
Sojavahaplekke on kerge eemaldada. Vaja on lihtsalt sooja vett ja seepi.
Kuidas küünlaid põletada
Küünlaid valmistades testime neid alati enne uue toote müüki panemist põhjalikult: tahi suurust, küünla põlemise aega jne, jne
Esimesel korral põletage küünalt järjest kuni kogu pealispind on sulanud - see tagab edaspidise ühtlase põlemise. Küünla süütamiseks kasutage sobiva pikkusega tikke.
Peale esimest põletamiskorda vaata, et küünla taht oleks ca. 0,5 sentimeetri pikkune - see tagab sojavahast lõhnaküünla kvalitseetse põlemise. Kui küünla taht on liiga pikk siis kärbi seda lühemaks. Kärpimata küünla taht võib põhjustada tahmamist.
Vältida tuleks liiga suurt leeki, mis võib anuma äärt määrida.
Ära põleta küünalt järjest üle nelja tunni.
Küünalt põletades hoia see alati ohutus kohas kus sellele ei pääse ligi lapsed ja koduloomad! Jälgi, et küünal ei asuks tuleohtlike materjalide peal või neile liiga lähedal.
Põlevat küünalt ei tohi ilma järelevalveta jätta!
Kui küünal on täiesti ära põlenud võib anumat pesta sooja vee ja seebiga ning tarvitada näiteks esemete või kuivainete hoiustamiseks.


Taaskasutamine / Recycling
Storytime küünlaklaase saab väga hästi taaskasutada. Siin mõningad näited mida me ise oleme kasutatud küünlaklaasidega teinud.
...
You can recycle our candle glasses very easily. Here are some examples what we have used some of them for.